Dragon Mart Dubai - An Enchanting Attraction for Fun
Posted On: 30-08-2023
It is advised to take a private vehicle there if your goal is to shop at Dragon Give your kids a day filled with fun. Bring the kids to the Fabyland children's play area, which is located inside Dragon Mart 2. While you work to match their energy, they can enjoy the games, kid-friendly rides, and soft play area here. Try your luck and take part in the fun!
On weekends and in the late afternoon on weekdays, this area may get crowded with frugal shoppers. The best times to shop are early in the weekday mornings when it is simple to find a parking space for your car or use valet service.
You can also take public transportation to reach this place. It is a stop on buses coming from Dubai Marina, Global Village, Mall of the Emirates, Ibn Battuta Mall, and JBR.
In Dubai, United Arab Emirates, it is conveniently located along Al Awir Road, close to International City, Dubai International Airport, and Jebel Ali Port.
Dragon Mart in Dubai - A Brief Overview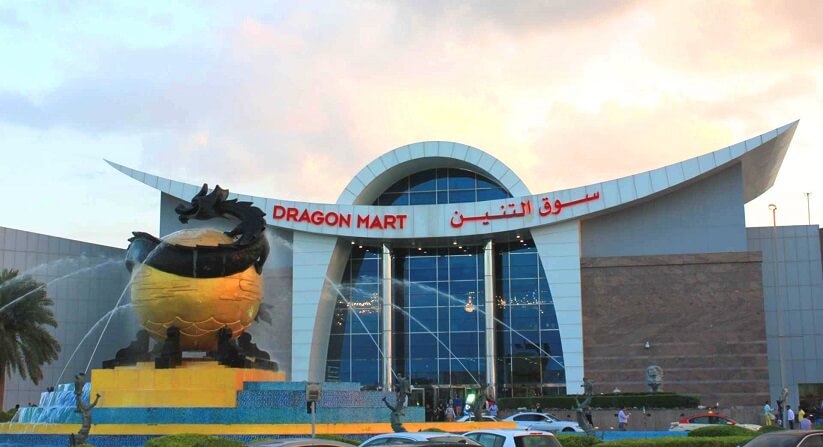 Timing:
On Sunday through Wednesday, business hours are from 10:00 a.m. to 10:00 p.m., and on Thursday through Saturday, they go until 1:00 a.m.
Getting There:
The best method of transportation for individuals thinking about visiting this fascinating attraction for some retail therapy is by vehicle.
The area frequently fills up with clever shoppers on the weekends and in the late afternoons on workdays. The best time to shop is early in the workday when there are many parking spaces available or valet service is available for your convenience.
Also Read: Sharjah Grand Mosque
Public transport is an alternative. Buses with stops at this fascinating attraction come from Dubai Marina, Global Village, Mall of the Emirates, Ibn Battuta Mall, and JBR.
Shopping Tips:
You must put in the effort to carefully research and switch between different sellers, shifting between them while attentively assessing price differences, to get the most out of your shopping experience and secure the best deals. Consider these helpful suggestions to make your visit even better.
Choose comfortable clothing:
The amazing 1.2 kilometers of this attraction require walking. Therefore, put comfort first by choosing appropriate footwear that allows for more movement.
Stay away from the Crowd:
The best times to visit this bazaar are weekday mornings, when there aren't as many people shopping. As the weekend draws near, the area is overrun by people looking for deals. If your shopping day is on a weekend, you might want to plan on getting to a fascinating attraction early.
Negotiations are to be expected as usual:
Along with offering a wide variety of goods, this enchanting bazaar exhibitors are willing to satisfy customers with competitive pricing. Never be afraid to barter if you see something you like, especially if you're buying several things from the same seller. You can achieve huge discounts by using charm and courtesies.
Avoid making quick purchases:
As soon as you enter the market, you'll see a lot of sellers selling the items on your list. Avoid the temptation to make a deal with the first salesperson you meet. Instead, extensively investigate the area to see if any other vendors are offering the desired product. This strategy might enable you to negotiate a better deal with a different seller.
Before committing, inspect
Make sure the product's quality is thoroughly examined before engaging in any transactions. Before making a purchase, it is advisable to ask the seller to test the product. Especially with electronics, to ensure that it functions as intended.
Learn how the layout is laid out:
The sections of fascinating attractions are carefully designed, with each one devoted to a certain product category, such as furniture, electronics, apparel, and more.
On the other hand, Dragon Mart 2 has four areas that house hardware, building supplies, appliances, and miscellaneous merchandise. Consider categorizing the things on your shopping list to make the most of your trip.
It goes beyond just purchasing:
To say that this fascinating attraction is large would be an understatement. The extensive walking and searching for deals nearly always results in exhaustion and hunger.
Thankfully, it offers an outstanding selection of over 52 dining options for foodies. You're sure to find a meal or snack that satisfies your appetite and gives you the energy you need for the rest of your shopping adventure.
Options range from well-known fast-food franchises like KFC, McDonald's, and Subway to establishments specializing in local and international culinary delicacies, not to mention cozy cafes.
Fun for everyone:
It caters to more than just bargain hunters. Novo Cinemas, which has 12 theatres and screens films from India, Pakistan, and Hollywood, is located in Dragon Mart 2.
On Sundays through Wednesdays, the theatre is open from 10:00 a.m. to 10:00 p.m.; Thursdays through Saturdays, it is open until midnight.
In addition, this fascinating attraction frequently conducts events for kids and families.
Additionally, Dragon Mart 2 is home to Fabyland, an indoor kids' amusement center with rides and a soft play area that offers a full entertainment experience.
Ask for help without holding back:
If you're having trouble finding what you're looking for or are feeling overwhelmed by the vastness of the mall. It has an information desk ready to provide the helpful advice you need.
Where to Stay?
The fascinating attraction at the Premier Inn Dubai is officially open for business! This hotel, which is close to the attraction, welcomes both families and business travelers.
It provides free Wi-Fi, parking, and a variety of dining options, from Nuevo Restaurant's family-friendly menu to Mr. Toad's Pub & Kitchen's laid-back atmosphere.
The hotel is close to well-known landmarks and tourist destinations in Dubai, including the
Dubai Mall
IMG Worlds of Adventure
Global Village, and Dubai International Airport
All thanks to easy access to Sheikh Mohammed Bin Zayed Road (E311). It is a great option for families, businesspeople, and ardent
fascinating attraction in Dubai
consumers alike because of its location!
A Retail Utopia:
It is the world's biggest Chinese trading hub outside of mainland China. It is the go-to place for a wide range of products, including toys, machinery, clothing, footwear, home appliances, furniture, electronics, building supplies and much more.
Top 10 compelling reasons to visit this unmatched Dragon Mart in Dubai in the list below
All of your needs can be met in one place. Find a wide variety of products, including office furniture, sports equipment, apparel, electronics, tools, and home goods, all conveniently located under one roof.
Spend money on fashionable clothing without going bankrupt
You may find superb ready-to-wear clothing, textiles, purses, shoes, and accessories at fascinating attractions, all at reasonable costs.
There is also a sizable selection of children's apparel, including gowns and chic ensembles for girls as well as stylish formal and informal attire for boys.
Take a magical voyage through the world of toys
For kids of all ages, it offers a true wonderland full of a variety of soft plush toys, dolls, automobiles, colorful educational toys, building blocks, musical instruments, remote-controlled vehicles, and a plethora of other delights.
Discover unique home decorations
If you're thinking of remodeling your home, it has a wide selection of unique home design items, furniture, upholstered goods, and necessary fixtures like lighting and fans. You can choose from a colorful selection of linens, rugs, carpets, and much more.
Create a relaxing outdoor space:
With its vast assortment of outdoor furniture, it invites you to create your outdoor haven. Top-notch rattan garden furniture, dining sets, sun loungers, fake grass, lighting, transportable gazebos, flower pots, and a variety of outdoor necessities are available for purchase.
Makeover your work area:
The ultimate stop for premium office furnishings, including drapes, shades, curtains, ergonomic seats, desks, tables, stationery, storage options, and more, is a fascinating attraction. Notably, fashionable things like bean bags and plush couches are easily accessible at reasonable prices.
There is a digital paradise waiting:
You may get a wide variety of excellent electronic products at the fascinating attraction, many of which are incredibly affordable. Steam irons, pen drives, heaters, lighting fixtures, pumps, inverters, power banks, and other items fall within this category. For further peace of mind, merchants noticeably offer customary warranties and after-sale repair services.
Satiate your Palate
Take a break for a meal or a coffee break at one of the many restaurants and cafés located within this space. Enjoy real Chinese food or choose your favourite burger joint. Enjoy outdoor dining in the wintertime along the Dragon Drive promenade, tucked between Dragon Marts 1 and 2.
Have a movie experience
The expansive Novo Cinemas complex at Dragon Mart 2 has 12 screens that show some of the most recent and entertaining movies, so you can end your shopping binge with a movie.
Give your kids a day filled with fun
Bring the kids to the Fabyland children's play area, which is located inside Dragon Mart 2. While you work to match their energy, they can enjoy the games, kid-friendly rides, and soft play area here. Try your luck and take part in the fun!