Al Boom Tourist Village - A Detailed Guide in Dubai
Posted On: 29-09-2023
Al Boom Tourist Village is a great option if you're looking for a distinctive place to have a gathering. This well-known location is close to Creek Park and one of Dubai's best multipurpose homes. It has four elegant banquet spaces that are appropriate for a range of occasions, including weddings, meetings, gatherings, and catering.
While gliding on Dubai Creek, you can charter a private boat for your special celebration. Visit the renowned Zaman Awal Restaurant and other dining and entertainment options at this fascinating attraction. As an alternative, you can board the Aref boat, the first recreational vessel to cruise along the creek.
Dreamland Aqua Park Premier Drawcards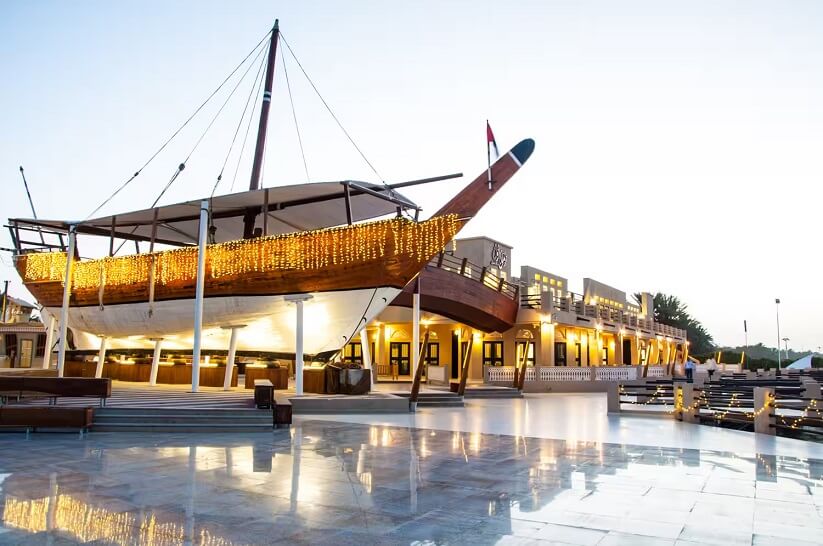 Al Boom Tourist Village is a great option for a distinctive event location. It has four exquisitely crafted halls that are ideal for making priceless memories.
Experience a private boat tour down the beautiful Dubai Creek, where you may gaze in awe at the glittering skyline of the city as the boat glidingly glides over the water.
Visit the renowned Zaman Awal Restaurant for a unique dining experience. The mouthwatering Arabian cuisine and a variety of other international delicacies served at this award-winning restaurant will leave a lasting impact on your taste buds.
A magnificent boat with two decks, the Aref Boat lets you discover the city's maritime history. The upper deck offers a tranquil area to repose and take in the magnificent views of the Arabian Sea. The lower deck is home to a maritime museum that provides an insight into the city's naval heritage.
Also Read: Dreamland Aqua Park
Upper Floor Charisma:
When compared to the upper floor, which offers a tranquil, gorgeous environment in an Arabian-style café, the lower level highlights the city's seafaring background.
A great place to go if you want to experience a real dhow cruise is this enchanting attraction. With three different boats to choose from, you can be sure to discover the ideal cruise for your requirements.
Fascinating Cruise Experience
You can even plan your event while peacefully sailing along Dubai Creek on a private boat. In addition, there are award-winning restaurants like the Zaman Awal Restaurant, which are excellent for a fine dining experience.
A magnificent boat with two floors is called the Aref Boat. While the upper deck gives stunning views of the Arabian Sea, the bottom deck provides information about Dubai's maritime history.
Don't miss a ride on a dhow boat, one of the major attractions here, if you're looking for a more traditional experience.
Concerned with tickets?
Tickets are not required to enter the town, but they are required to participate in the many forms of entertainment offered there.
How to reach?
You have several options when taking buses to go to Al Boom Village.:
From Satwa Bus Station 04, take bus 32C, and get out at Qusais Bus Station 02. Al Boom Village is only a short stroll away from there.
From Rashidiya Metro Bus Parking 1, select the 44 bus route, and get off at Ghubaiba Bus Station 10.
From Abu Hail Metro Bus Stop A 01, take the C7 route, and get off at Wafi Residences 01.
Starting at Etisalat Metro Station, take the metro to your desired destination. Al Jadaf Station is where you're going. To avoid missing your stop, be sure to pay attention to the announcements made about the upcoming stations.
Frequently Asked Questions (FAQs)
Do the Al Boom Tourist Village amusement parks have rides?
Indeed, I do. It's the ideal setting for your kids to have fun.
What time does Al Boom Tourist Village open and close?
Every day from 9 a.m. until 11:30 p.m., the location is open.
Is there a set attire policy in place?
No, there isn't a dress code, although we do advise wearing courteous, smart casual clothing.
Can I take pictures of the locals?
It is acceptable to take pictures, but make sure to ask for their permission first.
Location:
Al Boom Tourist Village is located in Dubai, United Arab Emirates, behind the Grand Hyatt.