Pygmy Zoo Ajman - A Family-Friendly Attraction in UAE
Posted On: 07-10-2023
Even though Ajman is the smallest of the UAE's emirates, there are plenty of attractions there for both tourists and residents to enjoy. In Ajman, the UAE's Pygmy Zoo is one of these attractions. It is a recently opened, kid-friendly location that has been receiving a lot of positive attention. It is located near Al Zorah Marina 1. I'm curious as to why. Let's look into the specifics of the first-ever petting zoo in Ajman and what it has to offer.
Also Read: Al Wathba Long Salt Lake in Abu Dhabi
Pygmy Zoo - A Brief Overview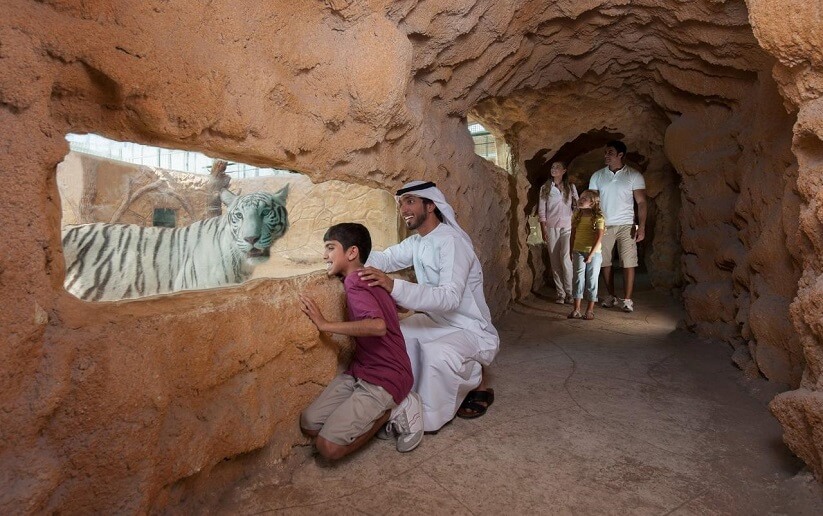 The UAE Pygmy Zoo is a groundbreaking attraction of its type in Ajman. The wildlife park is accepting visitors even though some areas are still being built. It's especially popular among young families.
Children may enjoy the great outdoors and learn about a variety of animal, bird, and reptile species here. The activities at this petting wildlife park include up-close encounters with animals, rides on camels and ponies, and fun interactions with lovely pups.
Are you thinking about visiting the UAE Pygmy Zoo, Ajman's first petting zoo?
With both children's and adult-oriented activities, you're in for a very memorable time. The wildlife park has a unique outdoor area with tables and chairs that are great for a family picnic. Or just relax while your children explore the wildlife park. Let's explore the variety of events this wildlife park has planned for you.
Unleash the Bird Enclosure:
Explore the bird enclosure to start your wildlife park trip. Ostriches, hens, pheasants, ducks, white owls, vultures, eagles, peacocks, and other fascinating birds are kept in the UAE Pygmy Zoo and are sure to awe both adults and children. The wildlife park allows visitors to feed and interact with these feathered residents to increase the fun factor.
Click a Picture With an Australian Macaw:
The beautiful huge parakeets and exquisite Australian macaws may be found in the Ajman Wildlife Park. With these magnificent birds, you may converse and even give them some snacks. Additionally, it's a wonderful opportunity to get some breathtaking photos that would look amazing on Instagram. They are with an Australian macaw sitting on your hand or shoulder.
Have a Fun Time with an Adorable Pups:
The dog part of the Ajman petting zoo is another aspect that makes it popular with both locals and visitors. This family-friendly place in UAE provides a wonderful opportunity to see and engage with a variety of toy breeds. Along with other tiny breed dogs and lovely puppies, even if you don't have a dog of your own. You can see chihuahuas, shih tzus, Norfolk terriers, and other dogs in the wildlife park.
Many of us enjoy puppies, but for a variety of reasons, we might not be able to keep them as pets. If this describes you, this family-friendly place in UAE gives you the chance to get up close. Besides, the personal with some of the cutest and most adorable puppies you've ever seen. Numerous puppy and small dog breeds, including well-known ones like Chihuahuas and Norfolk Terriers, will be eager to welcome and engage with you.
Fetch a Chance to Discover Miniature Animals:
Kids may "meet and feed" a variety of miniature creatures at the UAE's fascinating place in Ajman, which is an amazing opportunity. Hedgehogs, pygmy goats, small horses, dwarf donkeys, tortoises, Arabian oryx, miniature cows, and buffaloes are among these tiny animals. For the little ones, interacting with these charming miniatures is a joyful experience.
The experienced staff is there to help you and your kids safely feed the animals. Additionally, it offers fantastic educational opportunities for youngsters to discover the various food needs of each animal.
The Pygmy Zoo, as its name suggests, has a fascinating assortment of little versions of larger species, creating a singular experience. See toy horses, donkeys, cows, goats, tortoises, and even the native Arabian oryx. The entire family is sure to have a memorable time on this adventure.
The youngsters will also receive an additional treat in the form of a lovely camel or pony ride. While you relax in the dining area, let the kids explore the wildlife park with these endearing creatures.
Pony & Camel Rides For Kids:
Another enjoyable amenity provided by the UAE Pygmy Zoo is kid-friendly camel and pony rides. Children will adore riding on these adorable miniature ponies, which are sure to delight them. Kids can easily be helped by the skilled handlers to mount the miniature horses and camels. For a little price, participants can take a quick tour of the wildlife park with this activity.
Timings:
Visitors are welcome Monday through Thursday from 3:00 p.m. to 10:00 p.m. As well as on Fridays and Saturdays from 1:00 p.m. to 10:00 p.m.
Entrance Fee:
The UAE Pygmy Zoo charges AED 5 for each individual to enter. Do keep in mind that camel and miniature pony rides have separate costs.
Location:
The UAE Pygmy Zoo is located in Ajman in Al Zorah Marina 1.
This concludes our overview of the UAE's kid's friendly attraction Ajman's first petting wildlife park. It is one of the most popular attractions in the emirate, especially with kids.
The Zorah Natural Reserve is a well-known destination for nature lovers with scenic mangroves. Besides, there is a variety of activities for visitors to enjoy, which is another feature of the Al Zorah neighborhood. Take note of these top activities to do in Ajman while exploring the emirate. The numerous parks in Ajman also offer great chances for high-quality outdoor recreation.
Another wonderful day travel option in the northern Emirates for families is RAK Zoo. If you're in Al Ain, consider organizing a fun picnic there with the kids. Additionally, a trip to the Emirates Park Zoo Abu Dhabi is strongly advised if you happen to be in the nation's capital.