Saadiyat Beach in Abu Dhabi - A Fascinating Spot for Tourists
Posted On: 11-10-2023
In Abu Dhabi, there is a stunning, undeveloped seaside with white sand and clear waters called Saadiyat Beach. You may unwind in the sunshine and have a good time at the shore with your loved ones. It's the perfect location for a morning or evening stroll or to see the magnificent Arabian Gulf sunset. Here is all the information you need to know about this Abu Dhabi public coast.
Saadiyat Beach in Abu Dhabi Complete Guide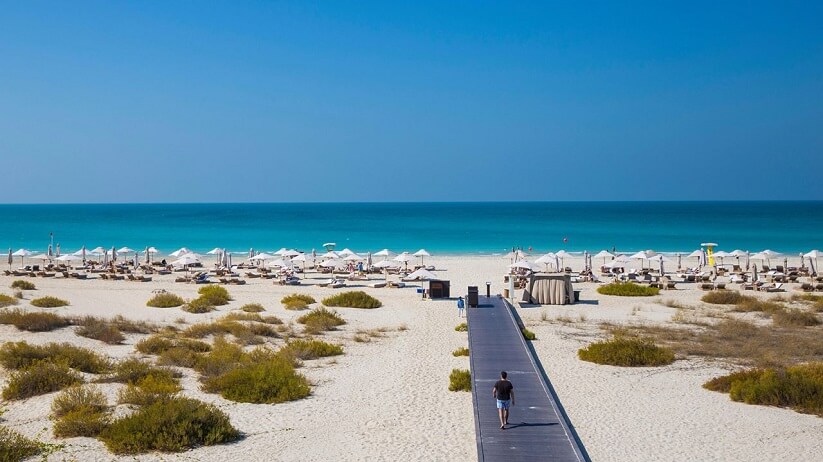 Saadiyat Beach is located on the opulent Saadiyat Island, as the name suggests. Every day of the week, guests are welcome at the seaside.
Also Read: Pygmy Zoo Ajman
Timings:
The costs at Breathtaking Seaside are as follows:
The shore is accessible to adults for AED 25
Youngsters (6 and up) can get in for AED 15
The shore hours are as follows
Open from 8:00 a.m. till dusk, the shore is accessible
Facility:
Visitors to this Abu Dhabi city's public seaside can take advantage of several attractions. You'll have plenty of parking space with space for up to 200 automobiles if you're going to the shore.
Additionally, Saadiyat Public Beach in Abu Dhabi features more than 300 sun loungers. It allows you to unwind while spending time sunbathing and watching the waves.
The shore also offers the following amenities:
Showers and restrooms
a retail store
A cafe
Saadiyat Beach in Abu Dhabi - Activities to Explore
Maximize Your Seaside Day:
Saadiyat Beach in Abu Dhabi is a wonderful place to spend the day. Sit on the shore and enjoy the water and sun. Nearby, you'll find sun loungers and umbrellas. You can also engage in water sports like sailing, windsurfing, and kayaking. All day long, lifeguards are on duty. On weekdays, lounge chairs and umbrellas are AED 50; on weekends and holidays, they are AED 75.
Also Visit: desert safari Abu Dhabi
Start Your Yoga Classes:
Consider signing up for seaside yoga classes. Accept the chance to discover peace among the soft sea breeze and the calming sound of waves.
Get Some Food at the Beach Lounge:
Take advantage of the shore, but remember to eat. Get some snacks from the shore lounge to satiate your hunger.
Investigate the Hawksbill Turtle Nest:
Animal life on Saadiyat Island is abundant. The nesting place of the Hawksbill Turtles is a must-see at this breathtaking seaside. If you're lucky, dolphins may be playing in the bay when you visit.
Because island authorities care about protecting the environment, they constructed a high path so visitors could watch turtles without disturbing them.
Saadiyat Beach Club:
This public seaside has lots of scenic beauty and entertaining activities. Go to Saadiyat Beach Club for a fancier experience. A beautiful outdoor pool, spa, sauna, jacuzzi, steam room, and private bungalows are all available at the club.
This fascinating attraction is among Abu Dhabi's top seaside clubs as a result of all of this. At this fascinating attraction, you may also eat at the following establishments:
Mediterranean Safina
Seafood at Cabana 9
La Salle (French, Mediterranean)
There are four types of memberships: monthly, quarterly, and annual. Membership fees range from AED 2,300 for a single person to AED 3,200 for a couple and AED 1,000 for a child.
How to Enjoy:
This fascinating attraction offers supreme luxury together with first-rate eating options. It gives access to the
seaside and pool
beautiful changing rooms
a fitness center
hot tubs, saunas
steam rooms for your delight
On the property, there is also a hair salon and a spa for beauty. An ideal seaside day for the whole family would include a kids' club with a small pool and entertaining water sports, as well as a play area.
Day passes during the week cost 250 AED for an individual or 350 AED for a couple, with special Monday and Tuesday savings for women.
Although there are several beach areas without lifeguard protection, both Soul Beach and Club employ lifeguards. While walking down the shoreline from the St. Regis Hotel (towards Saadiyat Jumeirah) is possible, we highly advise against swimming in areas without lifeguard supervision.
FAQS
Can guests use the Saadiyat public beach?
As long as they pay an admission fee, the public has access to it.
Recliners for the shore be bought?
You may certainly rent sun loungers every day of the week, with prices subject to daily changes.
How can I take a bus to get to Saadiyat Public Beach?
The best way to get there is by car, although you may also take bus routes 103 or 56. Our overview of Saadiyat Public Beach comes to an end here.
Check out our list of things to do in Saadiya Island for more fun things to do. In addition to the island's various attractions, Abu Dhabi, which unquestionably has some of the best shorelines in the UAE, is home to additional stunning seasides.