Al Wathba Long Salt Lake in Abu Dhabi
Posted On: 04-10-2023
If, like ours, your Instagram feed has been flooded with beautiful images of narrow, light-green lakes with distinct lily pad details and you're wondering what the magic is, we can explain.
We can also help you find locations where you can take your selfies in Salt Lake City.
A freshly discovered fascinating place in the United Arab Emirates has gone viral on social media. This stunning body of bright green water, also known as the "Al Wathba Long Salt Lake," is situated in the Abu Dhabi desert and is a popular spot for outdoor events and pictures.
Also Read: Al Boom Tourist Village
Are you planning a road trip to this recently discovered national treasure? Read on to learn everything there is to know about this mysterious spot!
Abu Dhabi's Al Wathba Salt Lake was created by humans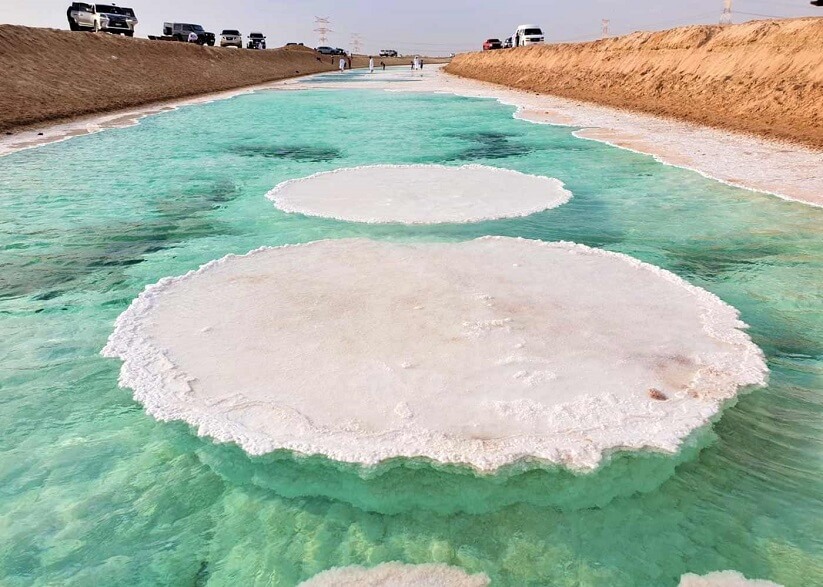 It obtains its saline from the neighboring salt flats, or "sabkha," which are a byproduct of the area's arid coastal climate.
It often takes many years for the massive saline formations in the spot, which resemble stepping stones. These stunning crystalline saline formations can only be explained by the fact that the water pumped into the lake somehow eats its way through the saline and mineral deposits that are already there beneath the sandy surface.
Location:
This location has two water canals, not simply one. This new attraction, which is unusual for the Middle East and is surrounded by crystallized saline, is quite amazing.
What region are these salt lakes in?
The majority of the images you are viewing are from the "Long Salt Lake" region, which is located in Abu Dhabi's Al Wathba neighborhood to the south of the city. Due to the off-roading required to get here, an SUV with four wheels is recommended.
If you know how to go to the Fossil Dunes, go there. Continue along the pylons along the sandy track after passing the dunes. The E65 is the closest main road, however, the most practical access point is a branch of the E30. It is close to the lovely Al Wathba Wildlife Reserve, which is temporarily closed to protect nesting sites. Using Google Maps, you can pinpoint the location precisely.
What exactly are these salt lakes?
It's still unclear how the fantastically bizarre salt mushroom formations came to be in what appears to be a man-made waterway.
On either side of the access road, there are these "lakes". This area has a Nordic Fjord-like atmosphere because of the pristine white saline crust that lines the beaches of these stunning emerald streams.
Through pipes that reach deep into the desert, water is delivered to these canals. It shouldn't come as a surprise that the ground beneath your feet contains a lot of saline. Due to the scorching climate and coastal location, this region is covered in saline flats, also known as "sabkha."
The massive, sturdy salt stepping stones that can be discovered further down the main channel are the source of the mystery.
These kinds of formations typically take a long time to naturally form, mostly because of erosion and the buildup of minerals. In an attraction that was created by humans, this process often takes far longer than one would imagine.
The Illuminati's existence has been verified. Of course, I'm joking! The most likely reason is that pre-existing structures beneath the sand's surface are slowly being worn away by the water in the channel.
A straightforward request: if you plan to visit, kindly help preserve the location's integrity and natural attractiveness. Avoid any harmful activity that can endanger the delicate saline deposits beneath your feet, such as littering and stealing saline chunks as souvenirs.
The very bizarre Fossil Dunes of Abu Dhabi are only a short drive from the Al Wathba salt lakes. There is a campsite nearby if you want to take your time admiring these naturally twisted, molded dune remnants.
We cannot emphasize enough how important it is that you never touch them. Unresponsible visitors greatly increase the chance that the site may sustain permanent harm.
At Al Wathba Long Salt Lake, Activities
When you arrive at the mesmerizing Long fascinating place, you can find yourself exploring the region or jumping amid the saline formations that resemble lily pads. In this situation, it's difficult not to be ecstatic.
Because it is a desert location, it is ideal for picnics with family or friends or, if you like, a lonely experience. For those looking for an unforgettable trip, camping is another choice.
Are There Recommended Practices For Visiting This Lake?
Although there are no set regulations, we advise you to keep the spot and its surroundings clean. Make sure there is no rubbish left behind if you choose to camp overnight.
Please refrain from taking salt crystals out of the spot. For the enjoyment of present and future tourists, the beauty of the attraction must be preserved.
Abu Dhabi has a tonne of fun things to do, especially for outdoor enthusiasts and thrill seekers. There are several possibilities, from the neighboring charming Fossil Dunes to the breathtaking Al Wathba Wetland Reserve. A must-see site in Abu Dhabi is the freshly inaugurated Mangrove National Park.
Consider adding the pink lake in Ras Al Khaimah to your bucket list if you're itching to discover another enigmatic attraction in the UAE. It has a brilliant pink color, as the name would imply, which makes it a perfect location for interesting Instagram posts.
Dubai also has the adorable Love Lake, which is desiLove Lake a heart and makes your trip even more enjoyable.